La acupuntura podría beneficiar a aquellos con síntomas sin explicación.
Así titulan en Eurekalert
una nota de prensa remitida por la
Peninsula School of Medicine
, de las universidades de Exeter y Plymouth (Reino Unido). Investigadores de su
Instituto de Investigación en Servicios de Salud
realizaron un ensayo en 80 pacientes cuyos síntomas carecían de un diagnóstico claro, el 60% de los cuales reportaba dolores musculares y esqueléticos. El resultado de este estudio es que los enfermos que recibieron acupuntura, además de su tratamiento habitual, declararon sentirse mejor.
The patients were randomly divided into an acupuncture group and a control group. Eight acupuncturists administered individual five-element acupuncture to the acupuncture group immediately, up to 12 sessions over 26 weeks. The same numbers of treatments were made available to the control group after 26 weeks.

At 26 weeks the patients were asked to complete a number of questionnaires including the individualised health status questionnaire "Measure Yourself Medical Outcome Profile."

The acupuncture group registered a significantly improved overall score when compared with the control group. They also recorded improved wellbeing but did not show any change in GP and other clinical visits and the number of medications they were taking. Between 26 and 52 weeks the acupuncture group maintained their improvement and the control group, now receiving their acupuncture treatments, showed a 'catch up' improvement.
Es decir, siguieron yendo al médico, continuaron su tratamiento, pero al recibir un tratamiento adicional de acupuntura, los pacientes se sintieron mejor. En ningún momento dicen que la acupuntura les curase, sólo que ayuda a mejorar la percepción subjetiva de la situación del enfermo.
the participating patients had a variety of longstanding symptoms and disability including chronic pain, fatigue and emotional problems which affected their ability to work, socialise and carry out everyday tasks. A lack of a convincing diagnosis to explain their symptoms led to frustration, worry and low mood.

Participating patients reported that their acupuncture consultations became increasingly valuable. They appreciated the amount of time they had with each acupuncturist and the interactive and holistic nature of the sessions – there was a sense that the practitioners were listening to their concerns and, via therapy, doing something positive about them.

As a result, many patients were encouraged to take an active role in their treatment, resulting in cognitive and behavioural lifestyle changes, such as: a new self-awareness about what caused stress in their lives, and a subsequent ability to deal with stress more effectively; and taking their own initiatives based on advice from the acupuncturists about diet, exercise, relaxation and social activities.
Bien porque los problemas fuesen de naturaleza psicosomática desde el primer momento, bien porque la falta de un diagnóstico claro conlleva una dosis añadida de estrés, ansiedad y/o depresión, este tipo de pacientes son altamente susceptibles de beneficiarse del efecto placebo. Si sienten que su problema está siendo tratado de cualquier modo posible, su estado anímico mejora y por lo tanto mejora su calidad de vida.
Hasta aquí el estudio. Ahora, el debate. ¿Es ético prescribir placebo? ¿Debe la sanidad pública financiar este tipo de tratamientos?
Actualización
23.00:
Los medios a los que ha llegado la nota de prensa via Eurekalert y
han decidido publicar la historia
, lo han hecho
sin comprobar nada más
. Como yo he hecho en este post. Sin mirar el artículo original publicado en el
British Journal of General Practice
y ver que las diferencias significativas apenas pueden considerarse como tales y efectivamente son sólo en el índice subjetivo de bienestar percibido.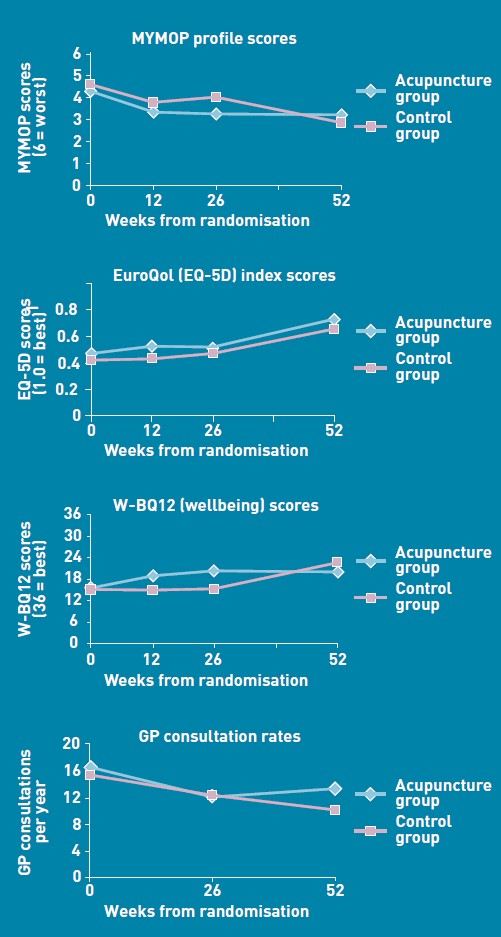 El diseño del ensayo no está hecho para demostrar (no podría) que la acupuntura cura sino casi más bien para potenciar los sesgos. Por eso la única diferencia entre el grupo tratado desde el principio y el que comienza el tratamiento más tarde es subjetiva. Pero hasta conclusión está puesta en peligro por los tremendos conflictos de interés de los autores, uno de los cuales es el director de un centro de acupuntura de Londres y otros son declarados defensores de la acupuntura.
Churrodismo en estado puro.
Lo que no quita para que siga siendo excusa válida para el debate: si algo funciona como placebo, si mejora el bienestar de un paciente, ¿es ético su uso? ¿Depende del caso?
medicina
,
escepticismo
,
acupuntura